Branding a New Transit Service
Logo Development / Vehicle Art / Signage /promotional Materials
GOAL:
Develop a name, logo and branding that attracts riders to a new free shuttle service of Reston Town Center and seamlessly integrates into the high-end, upscale multi-use development in Reston, Virginia. 
THE PROCESS:
Working with a team of managers and a marketing strategist, we started by reviewing demographic data for employees and residents in the area and built user profiles. After  studying the branding of comparable services and identifying barriers to ridership and competitive modes of transportation, we brainstormed names. 
From there I pulled together mood boards, color studies and rough logo designs. After many  rounds of revisions and tweaks, we arrived at th final concept, and from there built out the supporting materials which included a vehicle wrap, shuttle stop signage, posters, flyers and designs for digital elevator displays.
The client was very intrigued by the concept of the dot. In his mind, it represents the center of everything. So I carried the dot theme throughout the additional collateral materials, from the dotted line on the shuttle, to a giant dot in a flood of yellow on flyers to a giant yellow dot on the stop signs. 
OUTCOME:
The shuttle launched to overwhelming community support, ridership has steadily grown over the past year and the service has won local transportation awards.
CONCEPTS CONSIDERED BUT NOT CHOSEN:
FOLLOW-ON PROJECT:
The client was so happy with the shuttle branding project that they asked for a companion logo design for a local weekly event called Second Saturdays, where the streets are shut down to make way for musicians, activities, outdoor drinking and dining.
The logo uses the same typography style, dark blue color and dot motif as a way to build connection between the service and the local events in the area.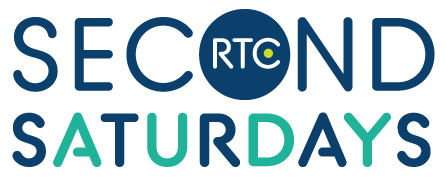 I would love to chat with you and your team about your organization's needs. Email me today for a free initial consultation and estimate of the time and costs to complete your project.
If email's not your thing, text or call me at 248.974.6836. I'd love to hear from you!